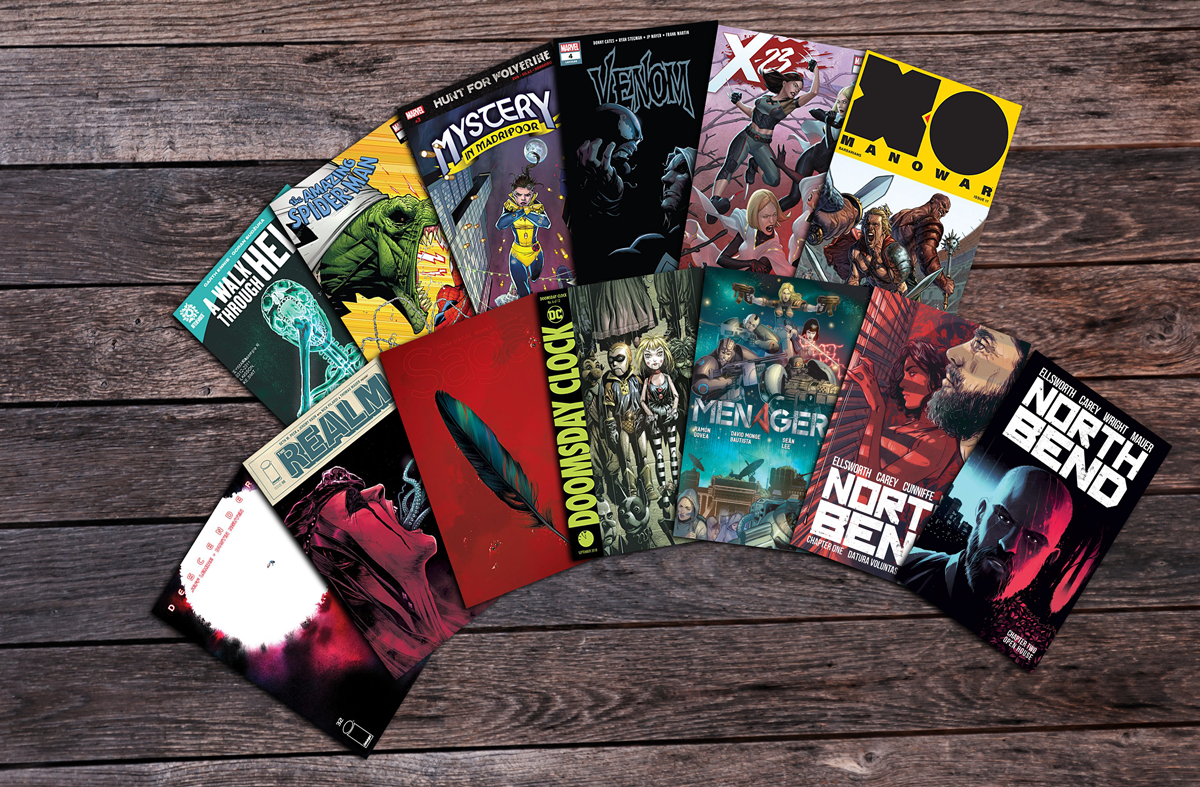 From the Pull List: July 25th 2018
This weeks books, I'll review them in the comments after I read them:
Venom #4 (And 1-2-3)
X-23 #2
Amazing Spider-Man #2
Descender #32
Doomsday Clock #6
Hunt For Wolverine: Mystery In Madripoor #3 (of 4)
The Realm #8
Saga #54
A Walk Through Hell #3
X-O Manowar #17
Menagerie #1 (Kickstarter Comic)
North Bend #1 AND #2 (Kickstarter Comic)
Venom #4 (And 1-2-3) was interesting. I've never read any of the other venom books. I primarily wanted to read it as I heard that Miles was in it. I'm not entirely sold on it just yet but I'll stick it out for the first story arch and see. Very interesting that the planet where they came from was actually a prison to keep this bad guy in.
X-23 #2 I'll say it again, I was not expecting this book to be this strong. Really the story and art are top notch. Does anyone know if the previous series' with X-23 were as good?
Amazing Spider-Man #2 is kicking along. It's refreshing to have Peter be more like Peter again and less like a Stark or all sorts of other things they were trying with the character. It's an interesting twist at the end with Spidey and Pete in the same place. What the hell is that about?
Descender #32 the final book… and I really wasn't into it. It felt like a huge plug for the next series. Honestly I'm not even thinking of continuing it. The book started off so strong and then just got really predictable. I stopped caring for the characters all together.
Hunt For Wolverine: Mystery In Madripoor #3 (of 4) was ugh… Yeah really don't like this mini-series at all. One more left to get through. The book is just very weak and the art is confusing.
The Realm #8 was good, it feels like we are now in a very typical but expected Dungeon Crawl from Dungeons and Dragons.
Saga #54 …wow. Simply wow! So yeah I know the book is going on a year break, and it is well deserved. What a way to end the book killing off Marko! Bloody Hell! Enjoy the break, and I'll be back for more when it's ready again.
A Walk Through Hell #3 wasn't as strong as the first two issues, but it was good. Really this book seemed to drag and repeat itself, except for the back story parts. Which of course the back story is great to begin to understand our characters and their motivation as well as how they got where they are back in issue 1.
X-O Manowar #17 we are still in a backstory and it is pretty enjoyable. I think it is helping one of the main issues with the book, that the secondary characters don't have a lot to them. Sure they are unique as individuals but there is no depth to their stories where we actually are invested in their characters. If they flesh out more it will make the book a lot stronger.
Menagerie #1 (Kickstarter Comic) was interesting. Great art and colouring for a Kickstarter comic. The story is there, just the dialogue feels a bit too rusty at parts. It doesn't feel like the conversation is there. That might just be me though. Can't wait to find out what happens next, but I know with Kickstarter things are not usually monthly.
North Bend #1 AND #2 (Kickstarter Comic) was a great story. This Kickstarter comic is pretty cool. There is about a CIA experimental drug program in the future. Can't wait for the 3rd issue whenever that comes out.